Full-Service Collision Repair Shop in Albemarle, NC
Laton's Body Shop is a full-service collision repair shop that's proudly served Albemarle, NC since 1981. From major collisions to fender benders and small blemishes, we help you maintain the integrity of your vehicle's appearance for as long as you own it. Whether you need paint touch ups or collision damage repair, we help keep your car in like-new condition, offering quick and affordable car accident repairs.
A Family-Owned, Award-Winning Collision Repair Center
Laton's Body Shop is Albemarle, NC's go-to auto body shop, repairing any and all body and paint damage from accidents or the elements. No amount of damage is too tough for us to tackle. From simple scratches to completely damaged frames, our technicians have the skill, knowledge and equipment to restore your car to beautiful—and, more importantly, pre accident—condition. When your car's frame suffers damage, it impacts your ability to operate the vehicle safely. Bring it in to our accident repair shop and we'll get to work right away, using our specialty frame machine to remove all bends and creases from your vehicle, to align it perfectly straight. We'll restore its integrity so you're safe to hit the road again. Our work also extends to damaged body panels, fenders, hoods, trunks and much more. Wherever there's damage, expect us to apply an expert, restorative touch.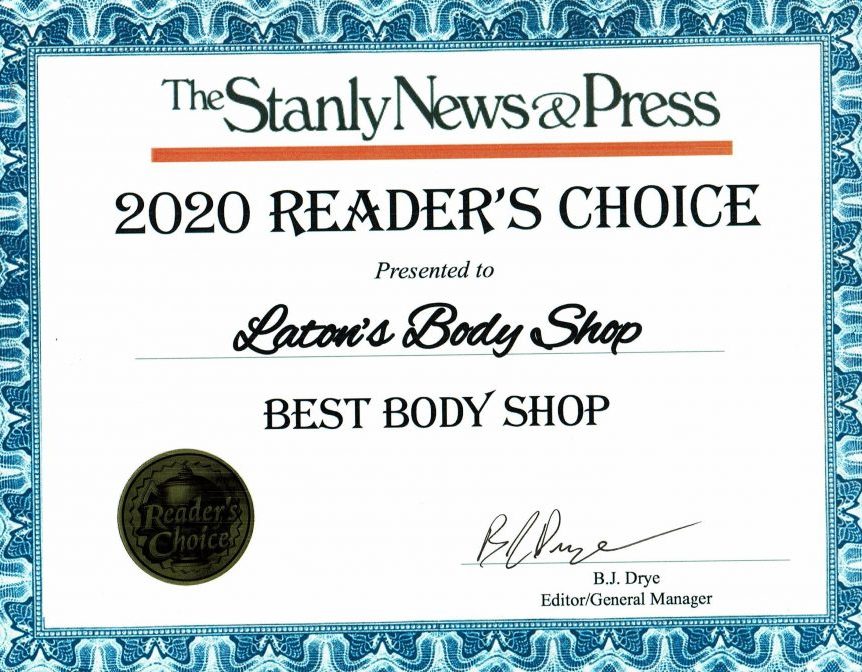 We know that every day without your car is an inconvenience, so we work quickly without sacrificing quality to restore the appearance of your vehicle. Don't let lingering accident damage remind you of a collision for any longer than absolutely necessary. Call us for repairs that erase the damage, so you can get back behind the wheel.
After Bodywork Repairs, There's Always Paint to Consider
Our paint technicians are the best in the business. From touch-ups to complete resprays of fenders, bumpers, hoods and more, you'll never even know that there was any damage to begin with! Our accident repair shop uses the latest technology— including computerized paint matching and a state-of-the-art paint mixing system—to match paint repairs to your car's existing color. It all wraps up with a beautiful clear coat, to preserve the quality paint job for years to come.
We're PPG Certified Painters with state-of-the-art paint-match and mixing software.
We're eight-time winners of the Stanly News and Press Reader's Choice Body Shop award.
We work with ALL major insurance companies to handle claims-related work quickly.
Both senior body technician has 20 years of experience in the industry.
We provide computerized estimates for accuracy and convenience.
We're extremely detail-oriented as an auto body shop and take pride in delivering the highest-quality images.
Our turnaround is among the quickest in the industry, for rapid, reliable results.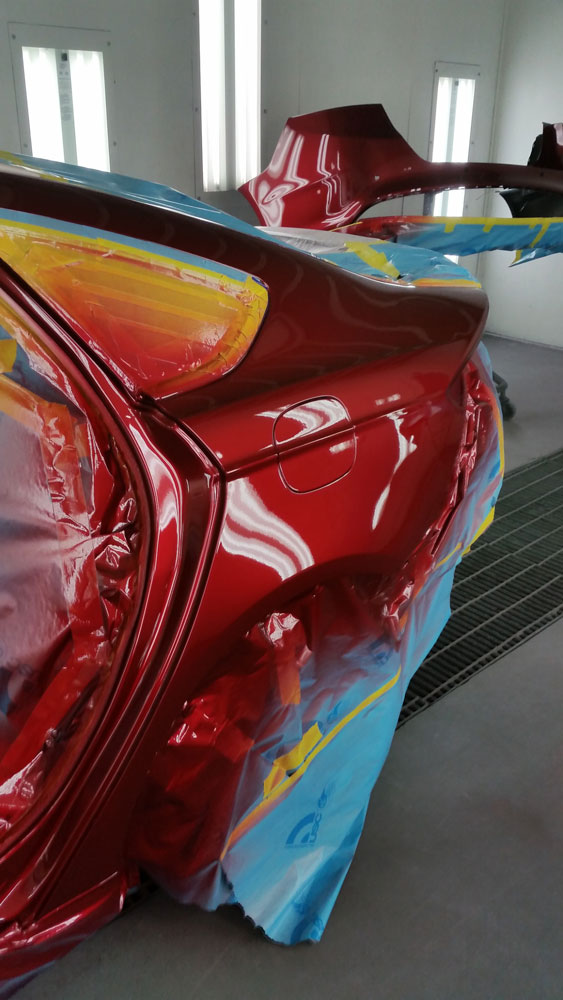 Proudly providing full-service collision repair shop services to the following areas:
Stanly County, NC
Albemarle, NC
Palestine, NC
Badin, NC
New London, NC
Millingport, NC
Endy, NC
Porter, NC
River Haven, NC
Woodrun, NC
Richfield, NC
Norwood, NC
Mount Pleasant, NC
Uwharrie Point, NC
Car Accident Repair Services
Laton's Auto Body is a friendly and award-winning car accident repair and paint shop serving Albemarle, Porter, Millingport, and Badin, NC. We specialize in bringing even the most mashed, smashed and crunched vehicles back to beautiful condition. Contact our accident repair shop today to learn more about what we do and to get an estimate.